All over the world, thriving DSD Clinics are united by their expert level of DSD implementation and their gold-standard status in our community. This global network shares not just a pioneering spirit, a passion for DSD and a vision for the future of their practice, but also a determination to provide the highest quality care and experience for their patients.
But there is still one other fundamental characteristic found in all clinics that have successfully implemented DSD: having an entire team that's fully bought into the DSD concepts and empowered to take ownership of DSD workflows; every team member has a role to play.
What does this mean in practice for your team? We asked Crystal Mitton, DSD Coordinator at Peggy Bown Dentistry in Saint John, NB, Canada, to tell us more about her role and what a typical day looks like for a dental team member in a successful DSD Clinic.
How do you prepare for a day in the clinic?
Crystal Mitton: If you had asked me this a year ago, before I started working at Peggy Bown Dentistry, I would have told you that it took a lot of willpower to get ready for a day of work. But now, I start every day excited for the day ahead of me.
Working with DSD has given me so much independence as a dental assistant to create the atmosphere I want to work in. Preparing for the day ahead of me now is all about making sure I am organized and ready to rock when those patients start coming through the door.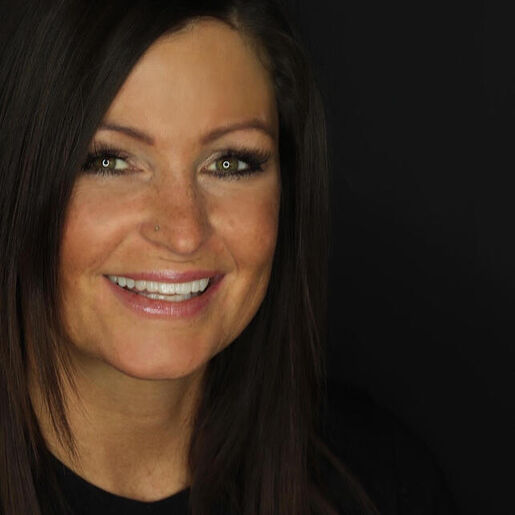 How does a typical work day start for you (before you get to the office)?
Crystal Mitton: I typically get up and do my tidying around the house so that I can enjoy my nights after work without worrying about chores.
Then I often do yoga or a quick workout to energize and focus my mind for the day. I have to leave the house by 6:30 because I am a 50-minute drive from work, so I grab a healthy breakfast and coffee on the way. If my husband is driving I will often check DSD on the ride into work to get started on the day!

What are the first three things you do when you arrive at the office and why?
Crystal Mitton: The first thing I always do is check my schedule to make sure I have prepared all the lab work I needed to have done for those patients. I usually finish my prep work days in advance so it's just to make sure I haven't missed anything so there are no surprises later.
Then I do my online checks for DSD, Dental Monitoring, and the Invisalign® website. I look for new notifications to put into patient charts and send messages to Dr Bown to remind her of upcoming cases and what she needs to approve. Then, finally, if there is time, I will get started on any upcoming lab work to stay ahead before our team morning meeting starts at 7:50.

Once patients start coming in, what tasks do you focus on?
Crystal Mitton: Creating meaningful relationships with the patients will always be my number one focus. I always try to find something we have in common so that they really start to trust me as their health care provider. When I am in an appointment with a patient, I do my best to give them my full attention despite whatever else might be happening.
After that, my focus is organization. With all of these amazing services we offer come a great deal of notifications, timelines and lab work. I hate not being a step ahead of the game, so I make sure to use any free time to get my next days prepared. I keep a list of everything I need to get done because it feels so satisfying to cross off that last task.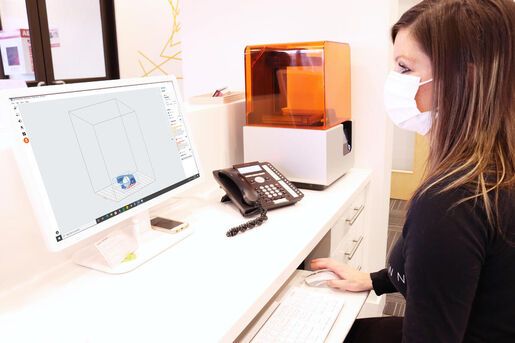 What are your favorite systems that you've put in place in the clinic?
Crystal Mitton: Dental monitoring has helped open my chair time for more important appointment types while still making our patients feel completely covered. This has been a really awesome change for our office. I also really utilize Google Docs because they make digital workflows so much easier. I am able to access my notes and cases from any computer - and so can my colleagues - so we can work on the same cases together even from afar.
The DSD Coordinators Course also taught us to be more efficient in our DSD Mock up appointments – from what equipment to use, to how we send the presentations to our patients using WhatsApp. We are learning every day what works best for us and continually tweaking the process to become that much more personalized and efficient in our office setting.
What is your unique skill set and approach that you bring to the DSD Coordinator role?
Crystal Mitton: Although I'm not usually one to talk about my own skills, I would have to say that I am able to create a connection with almost everyone I meet. Creating that connection allows the patient to trust me and builds the enjoyment and excitement for both the patient and me as we go along the DSD journey together.
"Creating that connection allows the patient to trust me and builds the enjoyment and excitement for both the patient and me as we go along the DSD journey together."
I also have ADHD, in which I believe I have found the positives and now include in my list of strengths. The coping mechanisms I have put in place to stay focused actually allow me to organize my workload in a very efficient way and I always want to keep moving and make progress in whatever I am doing.
That also translates into my desire to keep learning. Since I transitioned into my job at Peggy Bown Dentistry, I have done this more than I ever imagined I would, including taking my orthodontic module, learning the Invisalign system, and of course becoming the Digital Smile Design Coordinator. It just shows that when you have the right leader and motivation, you can accomplish anything you want.

What is the most useful thing you've learned from the DSD approach and workflows?
Crystal Mitton: I think the best part of the DSD workflow for me is how we get the patient invested in their treatment. By starting with the end in mind, we not only gain their trust, but they know what goal they need to work towards. It's no longer a dream but a tangible goal. Patient compliance is better, they are more interested in being educated about their oral health, and we are able to transform lives. Having a straightforward plan makes my and Dr Bown's lives easier because we know what we are aiming to achieve will work.
What is your favorite part of a workday and why?
Crystal Mitton: The DSD Mock up appointments and Invisalign delivery days are my absolute favorite. These appointments are always so full of excitement and the potential of what is to come. There is always a different energy in the air. I also like having the independence to work on my own with the patient in these appointments. Being the primary provider during those times is extremely rewarding and I love seeing the patients excited for their journey.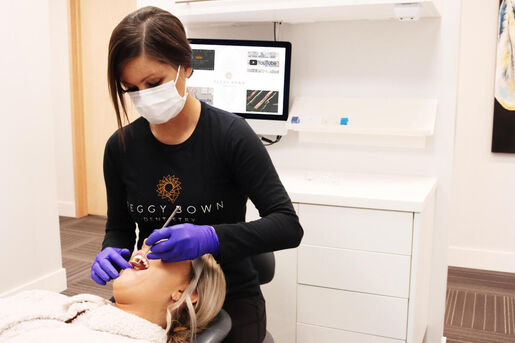 What are some of the longer term projects/ goals you are working on?
Crystal Mitton: I think my main long-term goal is just to really fine-tune our DSD system here at our office. I would love to create new workflows that I could eventually share with other DSD Clinics in how to optimize efficiency and establish deep relationships with your patients in the initial appointments.
I am so excited to be doing something I love and am passionate about and just want to continue to excel and get better.
What advice would you give any dental team member who is not sure if they're in the right job/ clinic?
Crystal Mitton: Coming fresh off this experience myself, I would have to say don't be afraid to leave your comfort zone. You need to put yourself first and always be seeking personal and professional growth.
"Don´t be afraid to leave your comfort zone. You need to put yourself first and always be seeking personal and professional growth."
That feeling of not knowing whether to stay or go is a hard one, but when you are in the right job, you'll know it. The truth is when you have your dream job, you won't question it and that is a sure sign you are where you are supposed to be. Believe in yourself and you'll find your way.
You don't have to implement DSD on your own
As a clinic owner, it is not efficient to implement DSD in your clinic all by yourself. Your team is the support system you need on side to truly take the DSD concepts from ideas to reality for your patients.
That's why we have created the DSD Coordinators Course. It's the essential online training you need to easily upskill your team in the DSD protocols and workflows, and empower them in activities that will enhance the patient experience and increase case acceptance.
>>Check out our upcoming DSD Coordinators courses in English AND German here <<