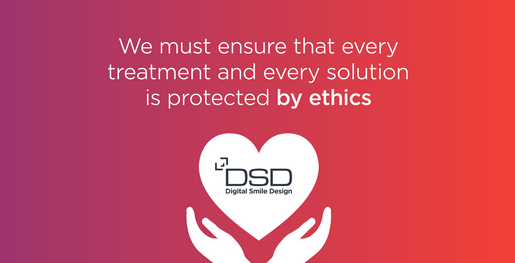 Digital Smile Design (DSD) is so much more than just a smile design concept. It allows dentists to achieve excellence, use technology to improve communication and accuracy; provide an unparalleled experience for patients; optimize their analogue treatment skills with increased precision and efficiency; and provide an emotional, personal and innovative patient-centered journey. It also places the patient in the driving seat by allowing them to become the co-designer of their new smile, and gives dentists the tools to fulfil the commitment to reproduce that design with absolute accuracy.
As a DSD dentist, what are the key parts of the smile rehabilitation process? DSD Company founder Christian Coachman gives us his Ten Commandments for holistic, digital and emotional dentistry solutions for modern practices.
Watch Christian Coachman's explanation of the Ten Commandments of DSD now on WatchDSD.
Commandment one: ETHICS ABOVE MONEY
As healthcare providers, the wellbeing of our patients should always be our main concern. While we want to create profitable practices, this should never be at the expense of the ethics of our dentistry. We must ensure that every treatment and every solution is protected by ethics, and works for the benefit of our patient before our own.
How your patients benefit...
Patients choosing restorative dentistry often have a clear idea of how they would like their new smile to look and the change they want to see. Though they may not be able to fully describe the final result, with guidance and prompts they are able to envisage their preferred smile.
With DSD, you work alongside your patients to discover the most effective treatment which will work for their unique preferences and goals and help them to achieve their desired smile. Using technology, you not only improve communication with your patients but enable them to co-design their new smile before delivering this result for them with accuracy. The goal isn't to sell them the treatment you want to sell, it's to deliver customized treatment and results that are right for your patient – guided by ethics.

Commandment two: HOLISTIC SYSTEMIC OROFACIAL DIAGNOSIS
DSD is centered around providing patients with a holistic diagnosis that goes beyond just looking at the teeth. Regardless of your specialism, during the initial appointments, DSD gives you the tools to become a complete diagnostician.
How your patients benefit...
Do you find patients are often concerned about how their new smile will 'fit' their face? They may come in with a photo of a celebrity whose smile they admire and would like to replicate. However, every smile is unique and needs to be designed to naturally fit an individual patient's facial structure. Equally, bone structure and the need for bone graft or sinus grafts will determine treatment and outcomes. DSD allows you to create a detailed orofacial diagnosis, focusing on your patient's unique concerns to ensure success in the smile restoration.

Commandment Three: PATIENT DIGITALIZATION
3D documentation will always help you to give a better diagnosis. DSD dentists harness modern technology to see, evaluate and judge cases to a very high standard, and digitalization provides more accurate, advanced and personalized restorations for your patients. The complete DSD workflow includes 2D and 3D design software and guided surgery software, as well as software specific to implants, periodontics, orthodontics and orthognathics.
How your patients benefit...
It's understandable that patients ask for detailed timescales and costs before treatment begins – when considering restorative dentistry, these are key concerns. With DSD, you are able to give a more accurate, dedicated diagnosis and clearly explain the process to your patients. Thanks to the digitalization of the process, you will be able to create a step-by-step treatment plan with accurate timescales and costs right at the start.

Commandment Four: VIRTUAL TREATMENT SIMULATION
By using a facially-driven, interdisciplinary software platform, you can improve the brainstorm and decision-making process. The DSD Planning Center allows you to choose the most effective treatment plan for your patients' individual needs and clearly demonstrate the treatment process.
How your patients benefit...
Virtual treatment simulation is ideal for patients to understand the proposed treatment plan and to show your professional reasoning. The DSD Emotional Treatment Presentation enables you to provide that information in a simple and effective way – demonstrating the virtual treatment solution and clearly showing how and why treatment options will help to achieve your patient's desired smile.

Commandment Five: DIGITAL TEAM COMMUNICATION
Asynchronous communication is the best (and probably the only) way to deliver interdisciplinary plans for every single patient that walks into your office.
How your patients benefit...
Do your patients have stories about past dentistry in which they experienced poor communication and mixed messages from dentists? Sadly, this has been all too common in some general dental practices in the past, and often leaves patients lacking confidence and trust in dentists.
Choosing to have a smile restoration can be a huge decision that often requires a great deal of research and deliberation. Once a patient has then made that decision to contact your dental practice and start the process, they should feel that they are in safe hands and benefit from clear and connected communication throughout their journey – from the receptionist and treatment coordinator through to the dentist performing the treatment.
By using DSD and patient digitalization, every professional involved in the patient's treatment will be using the same information, digital records and plans, ensuring patients don't have to repeat information and giving them a more seamless experience.

Commandment Six: GUIDED DENTISTRY
Guided dentistry harnesses technology to increase predictability and enable us to accurately deliver what we promise. Using DSD, the images and mock-ups you show your patient at the treatment planning stage will be entirely accurate because of the use of guided dentistry.
How your patients benefit...
It's natural for patients to wonder if the end result will look like the mock ups you show them. Using DSD, you are able to reassure your patients about the accuracy of treatment planning, and guided dentistry saves time and avoids unexpected complications during treatment. For example, using technology to plan implant placement saves time and unnecessary discomfort for patients, and also reduces the likelihood of unsuccessful occlusion.

Commandment Seven: QUALITY CONTROL
By using technology to evaluate outcomes, DSD allows you to compare results to simulations and adjust the plan accordingly. It is a holistic system that can transform a dental practice by reducing stress and increasing efficiency of treatment workflows.
How your patients benefit...
Do patients often ask you about the success rates for dental implants? Quality control is a natural concern for patients when they are considering having a smile restoration, with questions about whether treatment will be successful or whether the final result will look like their mock ups.
Using DSD, you are able to ensure quality control in the procedure and also in the creation of prosthetics. With 3D patient digitalization you can plan the best location for implants and any additional procedures needed and also be accurate in the size, shape and color of prosthetics.
Commandment Eight: NATURAL SMILES
Become an expert in dynamic facial analysis and create orofacial harmony by using natural dental shapes and understanding the tooth's proper color. Using monolithic CAD / CAM Restorations, DSD allows all of this to be possible.
How your patients benefit...
While some patients may be after a 'Hollywood' smile, many patients will be looking for a natural restoration – perhaps for a single tooth or a couple of missing teeth. DSD allows you to gather the exact information you need to do a dynamic facial analysis and create restorations in a natural-looking shape and color. DSD also simplifies the process of liaising with the lab creating prosthetics to avoid miscommunication and ensure accuracy in treatment.

Commandment Nine: EMOTIONAL DENTISTRY
Emotional Dentistry is a new way for patients to experience the impact of a new smile before they go ahead with treatment. It helps you to increase your patients' perceived value and encourage the pursuit of a confident smile – because every person deserves to smile with confidence. Using DSD, you can share an emotional investment with your patient before treatment begins, making them more likely to see the benefit of smile restoration.
How your patients benefit...
Do you often lose patients for smile restorations when they discover the costs? This is because patients aren't yet emotionally invested in the decision to restore their smiles. Smile restoration is as much an emotional as a clinical decision. That's why many patients considering treatment will give reasons such as improving self-confidence, doing something for them and investing in themselves. DSD bridges the gap between these feelings that caused your prospective patient to consider doing something about their smile and their decision to invest in the treatment.
How does DSD provide Emotional Dentistry? By giving patients a clear alternative vision of their smile. Through mock-ups, photoshoots and video footage, patients are invited to preview their new smile before having a single procedure. When they see the difference that treatment could make, they make an emotional investment, which can often lead to a willingness to invest financially in treatment.
Commandment Ten: ANALOG TRAINING
Though we are entering the digital era, we still need to train our eyes, hands and brains to see better, think better and perform better through analog procedures. DSD is about training dentists in cutting edge treatments and technologies in order to perform at their optimum skill level.
How your patients benefit...
Do your patients ever ask why they need to choose a specialist dentist for smile restoration? When general dentists offer dental implants, it can be confusing for patients to understand why they should be investing in specialist dentists for restorative dentistry. DSD allows you to train and perform at your optimum skill level, offering complex procedures with accuracy and precision through guided dentistry. DSD doesn't replace the need for analog skills; it helps the dentist who has these skills to perform complex treatments while improving accuracy, precision and treatment time, and delivering on expectations.
Are you ready to join the future of dentistry?
Though current restrictions may be limiting national and international travel, nothing can stop the demand for DSD courses! So if you're ready to embrace the future of modern dentistry, join the next cohort for our DSD Residency 1 Livestream program. This fully digital clinical and technical course will give you a full immersion in DSD and the techniques you need to master as a forward-thinking digital dentist.