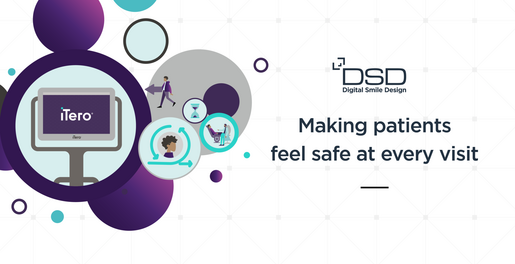 Digital Smile Design dentists use intraoral imaging systems, such as iTero scanners, as a key part of their digital workflows for exceptional accuracy and improved treatment storytelling.
iTero Element Scanners not only enhance the dental clinic's diagnostic capabilities, treatment planning and patient communication, but play a valuable role in biosafety protocols and cross-infection control.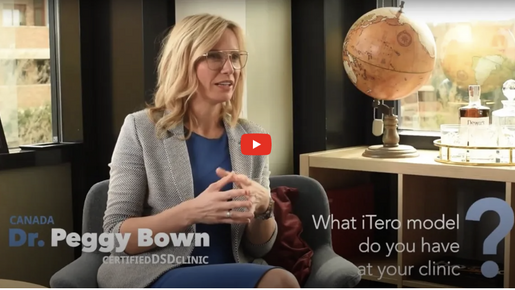 While rigorous cross-infection control procedures have always been standard practice in dental clinics, the impact of Covid-19 has brought about additional requirements and made patients more aware of their own safety. In this context iTero Element Scanners offer dental clinics significant added value, setting them apart from competitor offices and making patients feel safe at every visit.
How do iTero Element Scanners support your biosafety protocols?
Accessible patient details
The Myitero.com cloud-based platform gives you the option to review files remotely. This way, you can access details for your existing patients or create new records to continue with your cases with no need to be at your clinic, interact with your scanner or interact with others.

Remote access is also an added benefit for both patient and doctor during appointments. With the iTero Element 5D, your hygienist - who will be dressed in full PPE - can perform the appointment and the scan. Then you can review this scan remotely using Myitero, only going into the appointment dressed in full PPE if further diagnostics are required. Otherwise, you will be able to do the rest of the consultation remotely.

By following this process, you will not only minimize your patient's exposure to too many people in the dental clinic, but also reduce the amount of full, single-use PPE that is required per appointment by your team.


Simplified compliance for team
iTero Element scanner wands and screens can be easily disinfected in between scans by using the approved sanitizing wipes, while the iTero single-use disposable sleeve can be replaced. Your staff also avoid the additional sterilization of dental instruments which is required by analog impressions.


Using an intraoral scanner is another way in which dentists can put patients at ease and help them feel safe in the clinic. For example, a unique feature of iTero scanners is that the wand is covered with a disposable sleeve, rather than a reusable one.

By unwrapping this sleeve and covering the wand in the appointment with your patient, you have a valuable opportunity to physically demonstrate one of your clinic's cross infection protocols and answer any questions they might have.


The iTero Element scanner also helps you to support the safety of your dental lab. By submitting digital impressions you minimize interaction and the risk of cross-contamination associated with analog impressions.
To learn more about the value of the iTero Element Scanner across full digital workflows, as well as its advantages in clinic biosafety protocols, download this guide.
iTero scanner disinfection protocols
To ensure the safe use of your iTero Element Scanner, it's crucial to ensure that you are following official guidance on how to clean and disinfect your equipment to minimize the risks of cross-infection.
When it comes to care and maintenance, each component of the scanner (the wand, the cradle, the touch screen and the wheel-stand handle) all require specific procedures to be followed in preparation, cleaning and disinfection to ensure that they are ready for use. This must be done both when you use a scanner for the first time, and in between patients.
To do this effectively, it's also important to make sure you are using the approved cleaning and disinfecting materials for the minimum contact time required.
To find out more, download the official guidance from iTero on how to clean and disinfect your scanner.
The value of iTero in digital workflows
While an iTero Element Scanner is a valuable tool at every stage of the patient journey, at DSD we regard it as a dentist's most powerful ally to master the first appointment. Here are further advantages this equipment holds for digital workflows:
Patient comfort
Replace uncomfortable traditional dental impressions with quick, comfortable scanning to improve patient experience from the start.



Patient motivation
Showing patients the potential outcome of their treatment, perhaps for the first time, is a powerful way to explain the life-changing impact that dentistry could have on their life.

iTero does this through simulating the outcome of Invisalign® clear aligner treatment which enables patients to see a comprehensive outcome and be given the opportunity to become an integral part of the treatment planning process.



Patient education
Involve patients in their oral health by harnessing powerful visuals of their teeth and intraoral cavity. For example, to track progression of long-term decay or tooth wear. Explain complex ideas in a simple way that is easily understood, increasing compliance.
Want to learn more?
Download the official guide about the biosafety advantages that the iTero Element scanner brings to your practice, and official guidance on how to effectively clean and disinfect your scanner to limit cross-contamination.