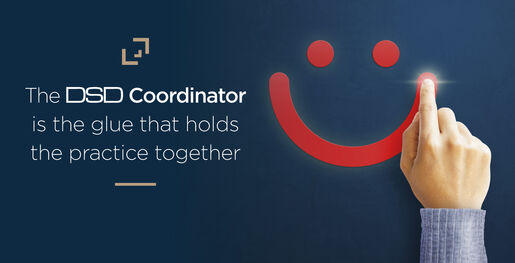 What are your Digital Smile Design goals for this year? Are you looking to improve the efficiency of your digital and clinical workflows or the overall experience you provide for your patients? Perhaps you'd like to focus on communication between you and your team in your dental practice.
Whether you're new to concepts or have been implementing them for a while, today we want to reveal the one thing you can do to transform the way you work with Digital Smile Design in your clinic.
Hire your DSD Coordinator
We believe the number one thing every dental clinic should do this year to ensure their DSD will take off is to bring a DSD Coordinator into the team.
Why? Because Digital Smile Design is a diverse set of concepts, techniques and protocols which, when implemented successfully, will skyrocket results at your clinic.
But taking full advantage of it can take time, as your team adapts to new ways of working. Your DSD Coordinator will be a vital source of help as you navigate this process, taking responsibility for managing all the big milestones throughout the patient journey. This includes mastering intraoral scanning and patient photography to create full digital documentation, communicating with the DSD Planning Center and ordering cases, managing patient relationships, and much more.
Want to know how having a DSD Coordinator will transform your clinic? Today, Dr Lindiane Rigo, DSD Education USA Coordinator and one of the presenters on the DSD Coordinators course, explains the role in more detail... and why dental clinics without a DSD Coordinator are missing out!

Why do clinics need a DSD Coordinator?
Dr Lindiane Rigo: The DSD Coordinator is the glue that holds the practice together. When implementing DSD and digital dentistry protocols there are many tasks and steps involved and having a person accountable for them is essential.
Couldn't a dentist manage the DSD journey in the clinic without a Coordinator?
Dr Lindiane Rigo: We like to say that each business needs a visionary and an integrator. In a dental clinic, the visionary is the dentist and the integrator is the DSD Coordinator that is accountable, removes barriers and makes sure the business is running smoothly on a daily basis.
How will having a DSD Coordinator help the dentist on a day-to-day basis?
Dr Lindiane Rigo: As the dentist you are the visionary – some of your responsibilities are to create new ideas, bring new concepts and guide the team to implement these new ideas effectively. Based on our experience, when a dentist has to focus on the daily tasks it's very hard to lead the team and manage the whole DSD process at the same time.
To solve this problem you need an integrator. The DSD Coordinator is the main person responsible for: taking care that the workflows are running smoothly and the whole team is engaged, and controlling/creating the relationship with the patient and with DSD solutions so that you can focus on patient care.
As a Brazilian-trained dentist, when I moved to the USA I worked as a DSD Coordinator in a great practice in New York City that was transitioning to digital protocols. I was responsible for all clinical-related matters involving the patient; from the first appointment to the smile reveal. For example, I was in charge of digitizing the patient, explaining the DSD workflow, sending the case to the DSD Planning Center, managing the case design timing and doctor feedback for the case approval, receiving the digital files for 3D printing, and finally having everything ready for the mock-up and emotional presentation to the patient. I can't imagine myself as a clinician without a DSD Coordinator to take care of this workflow for me.

"I can't imagine myself as a clinician without a DSD Coordinator to take care of this workflow for me."
What does the DSD Coordinator need to do in their role?
Dr Lindiane Rigo: The DSD Coordinator is responsible for the patients in everything related to DSD by motivating them and making sure they value and understand what the clinic does.
In addition, this role manages the digital workflows from the first appointment, to between consultations, the second appointment and procedures after case acceptance.

How is coordinating the DSD journey a different experience to coordinating the patient journey for other dental treatment?
Dr Lindiane Rigo: The difference with DSD is that we focus on the patient experience and we perform additional tasks before case acceptance. These tasks go beyond the technical/clinical procedures of performing the actual dentistry (which we do later). We use digital technology and visual communication to improve the way we plan interdisciplinary cases and present these treatment plans to the patients.
In your opinion, what is the most important thing to remember when changing traditional protocols to new digital ones?
Dr Lindiane Rigo: There is a learning curve to face; at the beginning it will require being fully invested and it will feel like more work, but with persistence the digital technology will lead to more efficiency and predictability when it becomes a routine.
My advice for clinics in this position is to take advantage of the differentiation that adopting these protocols in this early stage gives them and become an authority on this subject. The digital evolution in dentistry will not stop because of people who don't agree with it, so change before you 'have' to.

How do the non-verbal communication tools offered by DSD improve communication between DSD Coordinator and patient?
Dr Lindiane Rigo: Human decisions are emotionally driven, so using DSD emotional dentistry protocols allows the patient to experience the ideal confident smile before commiting to the treatment. This approach surprises the patient and creates an automatic connection with the dental team.
How does DSD improve communication within a dental practice and with other experts?
Dr Lindiane Rigo: First, having the patient digitized and using solutions such as the DSD Planning Center allows the case to be shared easily between specialists for feedback. Second, it enables better visual communication by creating a complete, interdisciplinary facially-driven smile design with the ideal end result in mind, guiding all procedures/treatment plan phases.
What type of person makes a good DSD Coordinator?
Dr Lindiane Rigo: The most important thing in my opinion when finding the right candidate is called 'GWC' – a person that GETS IT, WANTS IT AND HAS THE CAPACITY. For example, potentially good candidates may include: a dentist working in a foreign country that may not have obtained a local license, or someone with experience in sales or office management and the hospitality industry. Sometimes you already have a great team member that is ready to grow professionally and could also do this role very well.

"The most important thing in my opinion when finding the right candidate is called GWC - a person that GETS IT, WANTS IT AND HAS THE CAPACITY."
There are some characteristics to help when finding your right DSD Coordinator:
👉 Organized
👉 Ability to leverage and manage
👉 Tech driven – simple technology and photography knowledge
👉 Willing to learn
👉 Good at working in a team
👉 Highly motivated
👉 Easy going


One important thing to mention is that this role can be performed by more than one person, but both need to have well-defined tasks in order to be accountable.

Does the DSD Coordinator really need to go to this training?
Dr Lindiane Rigo: Absolutely! First to review the complete workflow, learning tips and tricks from the DSD technical implementation standpoint, and second, to connect with other DSD Coordinators and share experiences for growth and motivation as a group.
What support is there for DSD Coordinators once they have begun their role?
Dr Lindiane Rigo: The best way to be connected and learn with DSD is through our online education platform, where there are more than 200 videos accessible via DSD On Demand and step-by-step implementation content on our DSD Member+ platform which can be watched anywhere at any time.
What is the most commonly asked question you get from clinic staff members who are new to the DSD Coordinator role?
Dr Lindiane Rigo: The team members usually connect with the DSD concepts right away. The questions I commonly hear are related to the practice changing protocols, for example: how it will be implemented in the office, mock-up pricing considerations, selecting the right DSD patients, explaining to patients why we do this approach over two appointments, etc. As DSD Coordinator Course presenter I enjoy answering questions like these and giving participants the tools to apply DSD to their specific clinic contexts.

What is the most important thing for a DSD Coordinator to take away from this course?
Dr Lindiane Rigo: For me there are three main takeaways from this course.
First, DSD can be a great opportunity for professional growth. We want the DSD Coordinators to see their importance to the team and the success of the practice in implementing DSD.
Second, to feel confident with the workflow steps and motivated to take action when back in the office.
And last but not least, that being a DSD Coordinator is fun; it connects us emotionally with the most powerful thing we do in dentistry – changing people's lives by giving them confident smiles.


So, are you ready to appoint your DSD Coordinator? Through lectures, practical exercises and patient demonstrations, this two-day intensive DSD Coordinators course will give members of your team the know-how they need to successfully manage the full patient journey at your clinic. It's essential, DSD-focused training that can be implemented when they return to your practice.
Please note: It is not necessary to be a DSD Clinic to attend this training; it's designed for any dental clinic that works with Digital Smile Design.

Join us on a course
Take a look at our website to see the course content in more detail and find upcoming course dates that suit you. Whether your DSD Coordinator is newly appointed or experienced in their role, this will be a valuable learning experience for them which will supercharge results in your clinic.