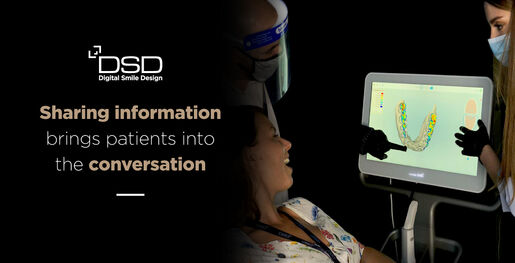 As a dentist, what factors do you believe are a threat to your business?
While it would be true to acknowledge that external forces are changing the landscape of healthcare around the world, there are also more subtle and pervasive challenges that start inside the clinic...
In recent years, the rise of teledentistry companies has made news in the dental world.
Using a direct-to-consumer teeth straightening business model, these companies enable customers to take their own impressions at home and then receive the aligners without having to visit a dentist at any stage of treatment.
Some of these businesses have received significant financial investment and, at the same time, heavy criticism from organisations such as the American Dental Association, official consumer complaints and a class action lawsuit.
However, hundreds of thousands of people continue to use their services.
The question we need to be asking ourselves is not how this happens, but WHY? Why would people consider having dental treatment that doesn't involve any dental visit or supervision by a trained dentist?

Why does the direct model appeal to people?
The answer to this is one of the reasons why Digital Smile Design was established; dentists need to improve how they show patients the value of their work.
When we don't do this as well as we should, I believe it causes patients to undervalue their teeth and think that cheaper, quicker, dentist-free treatment is an acceptable way to care for one of their most important features.
Why are we not always telling patients the full story about how our work can improve their quality of life? I dedicate an entire section in our DSD Residency 1 program to how society perceives dentists and here are some uncomfortable truths that I discuss:
👉Fact: most people don't like going to the dentist
👉Fact: most people think that dental treatment is expensive
👉Fact: most people don't fully understand the importance of their oral health
👉Fact: in film and tv a dentist is always depicted as an evil or unintelligent character
While this certainly paints a dire picture, the situation can be reversed. As dentists we need to take ownership of what we deserve by changing the way people see our profession.

Do we charge more than we deserve?
'Do we as dentists charge our patients more than we deserve?' I always ask this question at DSD Residency 1 and usually get an overwhelming 'no' response.
So when someone says: 'this is too expensive', it implies the product you're presenting doesn't make sense with the price you're charging.
We need to change the way we perceive our value.
For me, we improve the perceived value of the treatment by making patients understand how special the dental treatment is, increase the emotional link between the patient and the dental treatment, and give value to the smile transformation, explaining how important a confident smile can be to improve your lifestyle, your quality of living, and your health, your profession... that everything can be improved with a confident smile.
So how can a dental clinic compete with teledentistry companies...
Big advertising budgets?
Cheap treatments?
No required dental appointments?
It's simple: We have to make people love what we do by creating amazing experiences, including everything around the treatment.
Everything is an experience. People don't want treatment, they want the experience.

How does Digital Smile Design's approach provide an optimal patient experience?
1. Patients want to be involved in treatment, so we include them
The teledentistry model assumes that patients want to receive their aligners, which will move them towards a specific outcome, without contributing to the process.
However, having teeth alignment treatment is a big and often life-changing decision, which many patients will agonize over. For this reason, they actually want to be involved in the planning and treatment if offered the opportunity.
At Digital Smile Design, we bring our patients into the treatment process in a variety of ways.
The first of these is the motivational mock-up, an exciting and interactive experience in which the patient is shown how their new smile will look.
It's a highly-effective tool used by many successful dentists and aligner providers to demonstrate which treatment is possible and what the end result could look like, especially when combined with the DSD & Invisalign® integration that ensures precision planning when using aligner treatment.
This is done first with photos and videos of themselves with their new teeth on a big screen, then through a mock-up model of their new smile that clips over their own teeth.
This involves the patient in the planning process straight away and highlights the true value our treatment provides.
Our patients also become co-designers in the smile design process; we discuss the proposed treatment and outcome with them in a non-clinical setting (not while they are lying back in the dental chair) and give them the opportunity to give their opinions. We don't go ahead with treatment until they are completely happy with the treatment and results.


2. We use advanced technology to complement our skills and we tell our patients about it
The teledentistry model focuses on how it provides aligner treatment with no need to visit a dentist.
While this undoubtedly saves the patient time, it minimizes the importance of professional expertise, supervision, and technology to deliver what is a complex medical procedure in a safe and accurate way.
If we show patients how good we are, they will appreciate our efforts, because they don't really want to do their own dentistry!
Our Digital Smile Design Clinics use advanced technology to deliver the best results, and we communicate the value of this to our patients.
By using advanced intraoral scanners such as the iTero systems, CBCT and state-of-the-art facial scanners, dentists not only get to diagnose and treatment plan with the highest degree of accuracy, they can SHOW their patients what they see when they look in their mouths.
This powerful shift in sharing information brings patients into the conversation, doing away with the archaic dentist-patient model.
Through technology, we also design smiles which are facially driven, meaning that they are completely customized for each specific patient and in harmony with their unique facial features.
The result? An exceptional esthetic outcome that the patient loves and appreciates. I believe this cannot be achieved through the teledentistry model in which patients take their own impressions, at home, using the remote impression kit.


3. We collaborate on cases with the expertise of a planning center
At Digital Smile Design, we know that collaborative, interdisciplinary dentistry is the future.
While in the case of teledentistry models, treatment plans are remotely approved by a dentist or orthodontist, we harness the expertise of highly experienced professionals to deliver the best, predictable outcome for the patient.
Our DSD Planning Center brings together an interdisciplinary team of specialists from different areas. We collaborate on treatment plan and smile design for patients using our combined experience, recommendations from the patient's dentist, the patient's medical history, and input from the patient.
This results in a treatment plan and outcome which looks great, is clinically possible, and gives the patient the look and function they want and need from their smile.
To ensure future success and compete against direct-to-consumer models, dental clinics must continue to show patients the value of dental treatment delivered by qualified, experienced professionals with the support of advanced technology.
DSD trains dentists every year to incorporate successful strategies and techniques that will enable them to do this.
Our live and online DSD Residency 1 Livestream course brings together dentists from all around the world to understand the challenges and the solutions to modern dentistry, including how to get patients onboard with your life-changing treatment plans and deliver better smiles in a less stressful way.
Find out more about our DSD Residency 1 Livestream course here 👇