Why does DSD choose Formlabs Dental 3D printers?
There are many things to consider when it comes to choosing the right 3D printer for your dental clinic. But one thing's for sure – this technology is here to stay. Thanks to the work of the DSD Planning Center and DSD Lab printing hundreds of devices a month for our client base worldwide, we've had the unique chance to experience many different print technologies and brands over the years. In this article we will look at why we believe 3D printing will only become more important in dentistry in the future – and the reasons why Formlabs Dental 3D printers are the right choice for us at DSD.
Why is 3D printing technology important in dentistry?
Christian Coachman believes there are several key reasons why 3D printing has such a crucial role to play in modern comprehensive dentistry: 🖥 Dentistry can be inconsistent and frustrating and in future we will need to focus on guided dentistry. Guided dentistry is made possible by 3D printing technology. 👥 Dentistry can be inefficient and stressful and the future will belong to better, seamless team collaboration. Better team collaboration is made possible by 3D printing technology. 🥱 Dentistry can be repetitive and boring at times and in future we will be focusing on more fun and meaningful work. 3D printing technology helps make dentistry more meaningful, easy and fun. 👨‍⚕️Patients often take dental work for granted and future success will be achieved by those dental professionals who are able to generate perceived value. 3D printing technology is a great story to show patients the value of our work for them. 🥰 Dentistry can be unpleasant for patients who will come to demand more comfortable and unique patient experiences. 3D printing technology can improve chair-side performance and the overall treatment experience. 🌍 Professional collaboration should be possible with no location limitations. 3D printing technology connects us to the world and allows us to collaborate with any lab, doctors, planning center or provider of digital dentistry solutions on the planet.
Why does DSD choose Formlabs Dental for 3D printing in dentistry?
Hit play to hear Christian explain why DSD chooses Formlabs Dental for our 3D printing solutions 👇🏽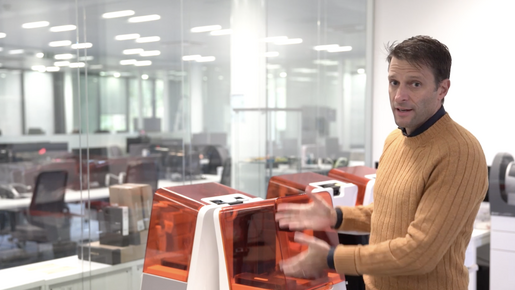 Formlabs Dental printers have become an indispensable part of our digital workflow here at DSD Lab that allow us to manufacture products for our clients around the world. After working with Formlabs for many years and using their 3D printers, since the Form 2, with significant success, DSD Lab currently has five Form 3B printers. We believe that Formlabs Dental has been leading 3D printing disruption in the dental profession since the beginning and, as a result of the trust we have in their technology, we recently established an official partnership with the aim of working together to continue developing the future of dentistry. We have invested in Formlabs Dental's latest printer, the Form 3B+, because it consistently delivers industry-leading print quality and a seamless workflow. An advanced desktop 3D printer developed for dental professionals, it's designed to allow you to quickly fabricate accurate, high-quality dental models, appliances and prosthetics.
Quick facts about the Form 3B+ printer
Desktop 3D printer

Developed for dental professionals

All dental specialists

Manufacture any of Formlabs Dental's validated indications

Multiple quick prints per day

Printing a single part or smaller batches

Switching between indications or printing multiple different indications concurrently on multiple printers

Powered by Low Force Stereolithography technology
See the features of the Form 3B+ ➡️ Tour the 3B+
Here are 5 reasons why DSD chooses Formlabs Dental 3D printers:
1. Excellent technical support
Formlabs Dental 3D printers are easy to use. When we need it, however, the technical support is excellent. After using many different printers with customer support services over the years, we have found Formlabs Dental to offer the best support.
2. Intuitive software
Formlabs Dental 3D printing software is intuitive and flexible. With the introduction of the Form 3+ and the Form 3B+, Formlabs has launched several software improvements such as:
Revamped material settings

Increased print speeds by 20-40%

Enhanced light touch support structures

Several features that improve user experience
3. Great surface quality
Here at DSD we are extremely particular when it comes to surface quality; many of the DSD solutions depend on it! Formlabs Dental 3D printers are able to deliver great surface texture for models and natural restorations. Form 3+ and Form 3B+ include new components that stabilize the Light Processing Unit during horizontal motion, which results in even better alignment between layers, and ultimately better surface finish and optical clarity.
4. Eye-catching design
When it comes to use in dental clinics, the design of Formlabs Dental 3D printers is a big plus! Display it in your waiting room and use the opportunity to tell patients what you can do for them with 3D printing technology.
5. Variety of resins
One significant advantage of this printer is the variety of resins available – and this increases every year. Innovation in digital dentistry is very important to us here at DSD and we are currently collaborating with Formlabs Dental on a resin to facilitate and improve one of the major DSD applications. Watch this space…! 👀
3D printing applications in dentistry
On 23 January 2023 at 4pm CET, we'll be hosting a virtual round table discussion about Formlabs Dental 3D printers which will bring together clinicians with experience in this technology to share their experiences of successfully integrating it into their digital workflows. If you are interested in learning more about Formlabs Dental 3D printers and the applications of this technology in dental clinics, fill out the form below to receive updates about this virtual round table event.