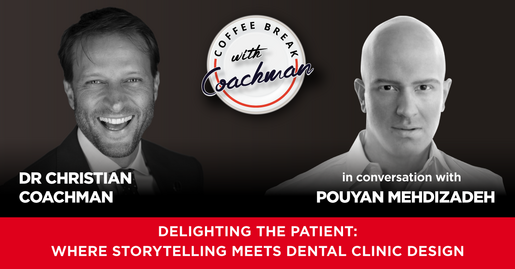 In a recent episode of Coffeebreak with Coachman, Christian had the chance to chat with Pouyan Mehdizadeh, founder of design and architecture firm House of Amud. After first being introduced to DSD in 2017, Pouyan is now working side-by-side with DSD to create and consult on DSD Clinic transformations around the world.

We've highlighted the best bits of their discussion below, where they talk about everything from spatial storytelling to disastrous direct lighting.
Meet Pouyan Mehdizadeh
Pouyan is the founder of one of the Netherland's leading boutique design agencies, House of Amud, which specializes in high-end spaces for hospitality, gastronomy, nightlife, retail and residential. He graduated from Delft University of Technology and worked as a designer in a number of agencies and a photographer before founding his own company in 2016.

After first being approached by Dr Saghi Helmi to transform her clinic in The Hague into the 'perfect DSD clinic', Pouyan was faced with trying to realize Digital Smile Design's concepts in his designs.

So, he decided to go along to a DSD course and learn all about DSD's protocols and workflows for himself. This allowed him to fully understand the DSD philosophy and he was able to design DSD Clinic, Helmi's Dental Care, with DSD's workflows and protocols totally in mind.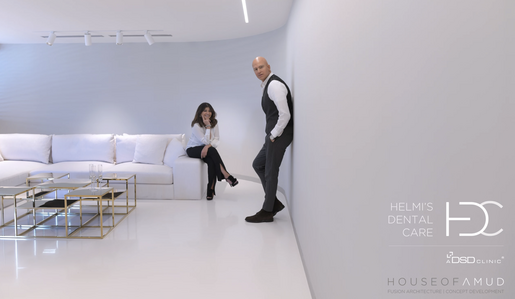 The problems with present-day dental clinic design
Many practitioners believe that the success of their business is down to their service and skills, which are, of course, very important. But what we've found is that many clinicians overlook the importance of the clinic environment in the patient experienceand how the design may affect overall case acceptance.

Christian:"Patients may say that they only judge the dental quality, but unconsciously they're judging and evaluating everything else.

Most of the dental offices that we see look like dental offices – they have the same type of sign outside the window, they have those inelegant images, you walk in and there's that conventional carpet, music that is kind of standard, the reception that is boring, that front desk with the computer which has a bunch of cables facing the person that is walking in. There's no type of concierge or host strategy, you have that ugly water fountain in the corner with plastic cups and some ugly chairs, too."
Create engagement in a clinic with a non-clinical feel
What's the most important thing to think about in clinic design?

Pouyan: "The most important thing is engagement. Every factor that we use in a dental setting and the interior of the building has to be engaging for the patient – that's when you start making a huge change.

A clinical setting creates the psychology that you're gonna be treated – you're gonna be operated on. But what if we changed that?

For example, when you enter a clinic, it's like when you enter a beauty clinic or a salon or a design showroom. When you enter a Mercedes Benz showroom, the first thing you feel is 'what if I had a Mercedes?' – not that it's gonna be expensive or it's gonna be that great Mercedes build.
"A clinical setting creates the psychology that you're gonna be treated – you're gonna be operated on. But what if we changed that?"
So let's focus on the dentists. When you enter, you have to feel 'wow, what if I get that smile?'. And in order to do that, you have to engage the patient. So, your patient waiting room has to have some fun factors. You have to play with trends, as trends are recognizable."

Storytelling helps your patients understand your brand and service offering
Pouyan:"Designing with storytelling is a very complicated concept. When I was introduced to DSD, what really attracted me was the experience – I was seeing a concept other than just normal dentistry. For me, it was about elevating that experience, or even the technical experience, and translating that into a physical experience.

In order to do that, we tried to make the clinic a place to be – somewhere where people would rest for a little while, talk, don't fear anything at all and would actually have pleasure in visiting often. So the mindset before entering and after entering the clinic would be totally different. And that's working with a story."
When you're designing, how can you bring storytelling into the design of a new dental office?
1. Introduce color to your clinic


Pouyan:"Branding the space is the most important thing. And how we do that is firstly the color. Choose a color that resembles your brand. And let's say you have a very simple clinic and you turn it all yellow – every room is yellow, maybe you hate yellow, I hate yellow – but when I enter a clinic that is all yellow, even if I hate it, it attracts me because it's so dramatic and extreme.

So I would say color is just the first thing and your color resembles you."



2. Invest in your waiting room area


Pouyan:"People neglect the area that is the face of your office – the entry room, the hallway, the waiting room, the reception room – where people will be sitting for 5 to 10 minutes thinking about nothing – meaning they have nothing to do besides look around and say I don't want to be here.

The reception area is a barrier, so you have to make it feel like a lounge, a living room, and that's what we're trying to do in DSD clinics now. When you enter, it's not a waiting area, it's somewhere you hold presentations. Maybe it's somewhere you have lunch, maybe you're working on your iPad. It's a lounge. It's very important for it to be multifunctional. Multifunctional makes it more exciting."
"The reception area is a barrier, so you have to make it feel like a lounge, a living room, and that's what we're trying to do in DSD clinics now."

3. Consider the lighting you use before investing
Christian:"I love lighting. This is one of my addictions. But if you could give one, two or even three tips for lighting or simple investments, what would you do to improve ambience in the waiting room?"
Pouyan: "People are used to basic colors and basic lights and they don't like it, but they invest a lot in lighting. It's all very direct, it's all very white.
I started analyzing lighting for dental practices and the most important thing is for the dentist to be able to recognize the color of the teeth in the clinical room, the natural color of the teeth.
With dimmed light and more indirect lighting, you create a warmer, but also more cozy atmosphere. It could be very futuristic, but lighting makes sure you're not looking to run away.
When you're doing very warm yellow lights and you like them classic and warm, stick to that, don't use white anymore. If you use white light next to yellow light, it's the biggest disaster of interior design.
People also like to post stuff on social media, so sometimes we have something that we call the social media wall. It could be as simple as a wall with a big logo or quote on it. But it shouldn't be cheesy – something that resembles you, that you feel comfortable with and it could be an artwork or personal photos. As long as it's focused with good lighting, it attracts a lot of attention and it eliminates the clinical feel."
4. Choose a style that reflects your brand and apply it throughout
Pouyan:"When you do something in a style, stick to that. If you're doing modern, do modern. Don't mix things up. Be faithful and committed to the style you chose. Even if you don't like it, a cohesive space is 3,000% better than a good-looking, confusing space. This is very important.
I talk with a lot of dentists about dental design and taste and a lot of dentists actually have great taste. I go to their homes – amazing homes, they're very picky about everything – and when I talk about their practice, they say, 'but oh, that's my practice'. What's the difference? Just look at your home, it's (your clinic) like your second home. And patients love that."

What to take away from this conversation
Christian:"So the final advice is, be different, look at your office with different eyes, invest in talking to people that understand how to create ambience and invest a little bit of money.
"If you are already delivering good dentistry, you deserve to get the value for that and unfortunately, good dentistry itself will not bring the whole value that you deserve."

You've invested so much of your money in your office, you've worked so hard to deliver good dentistry. But to be a good dentist is so difficult and if you are already delivering good dentistry, you deserve to get the value for that and unfortunately, good dentistry itself will not bring the whole value that you deserve.

You need to think about absolutely everything that is building up momentum, building up the patient experience and create unconscious perceived value."


If you are interested to learn more about creating an outstanding patient experience in your own clinic, why not join us at a Residency 1 program? Find out more by clicking here 👇👇