Can you recall the last time a course truly ignited your passion for dentistry? An education experience that not only informed but transformed your perspective?

In DSD's latest and most exciting collaboration yet, we launched our first-ever DSD Education Center, located in the vibrant city of Seville, Spain.

The design for this unique center is the result of many years of pioneering new experiences in dental education, teaching comprehensive and modern digital dentistry, and forging strong partnerships. Read on to find out why this state-of-the-art center is so unique and what courses you'll be able to attend here.

Why is the DSD Education Center unique?

The DSD Education Center was built for the seamless integration of lecturer-to-delegate presentations, over-the-shoulder observation, hands-on clinical practice, and personal connection between participants and presenters.
Integrating cutting-edge technology this new center offers dynamic theoretical, hands-on, and clinical courses for dentists where you'll be able to watch top clinicians perform modern comprehensive dentistry all under one roof.

The DSD Education Center provides the ideal learning experience with an auditorium integrated with what we call a 'clinical aquarium'. This is a room divided by a smart glass wall next to the main auditorium, which comfortably seats over 80 people and features a state-of-the art 6m x 2m LED screen.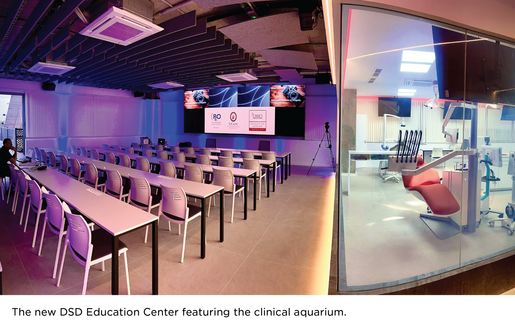 Inside this 'aquarium' there are six operatory chairs and robotic cameras that capture the intricacies of each procedure. This content is continuously live-streamed to the participants in the auditorium through five different screens, allowing everyone an upfront view of each procedure during the course.
Here at DSD, it's always been important to us to combine learning experiences with enjoyable opportunities for social interaction, where you as the participant can engage with fellow dentists who share similar passions and goals for the future.

What courses will be held at the DSD Education Center?
The DSD Education Center will host a diverse range of courses for you to gain invaluable experience with specific DSD techniques. The center will also now be the official home for all future DSD Residency 2 and DSD Restorative courses.
The custom-built facilities provide course attendees with engaging, detailed views of DSD workflows in action, demonstrating the principles that are taught in our theoretical introduction course, DSD Residency 1.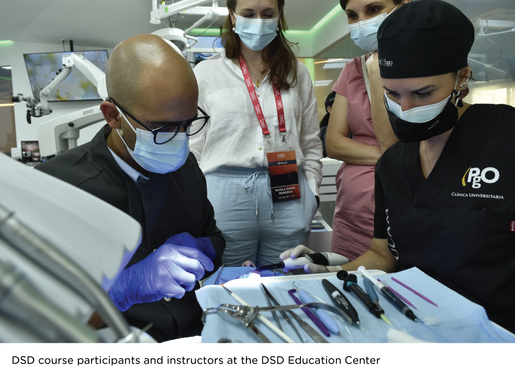 Partnerships that made the DSD Education Center possible

An education center such as this one was only made possible through the partnerships that we've built over many years with dental professionals and industry leaders.
Two key partners who were instrumental in establishing the center were Dr Jesús Creagh, DSD KOL & DSD clinic owner, and the Catholic University of Murcia's dental post-graduate initiative (UCAM PGO).
Another important contribution that enhances the learning experience at the center comes from our dental industry partnerships. As a result, course participants can see world-class digital technology in action. These include dental products from partner ZimVie, an iTero intraoral scanner, a Formlabs Dental 3D printer, an XO Care dental chair, a VHF milling machine, and much more.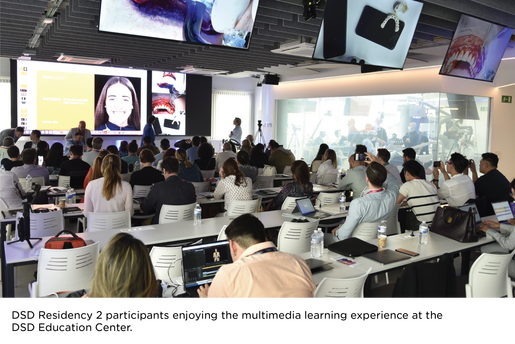 Join us at the new DSD Education Center
If you're a progressive, ambitious dentist who's ready to take your next steps toward implementing comprehensive digital care, join us to get the full experience of the new DSD Education Center.
Check out our full range of upcoming courses in our DSD course menu and learn more about why this center is so special.
We look forward to welcoming you to one of our courses in the near future!

Follow us on Instagram, Facebook, and LinkedIn to stay updated on our course promotions and flash sales that we run during the year.‎