My name is Carmen Caballero and I'm the Lead Consultant on the DSD Consultancy team. My journey started out as a dentist, following the path of family members before me. That was until I discovered DSD and started working one-on-one with clinics to help them change how they perform dentistry. One of the most rewarding parts of my job has now become seeing how the teams take on our digital workflows and bring DSD to life in their clinics.
I want to tell you here about the DSD Team Consultancy, a unique training program for you and your entire team. The outcome? A well-trained and reliable team, simplified procedures, reduced stress, and most importantly, saved time. Let me tell you more…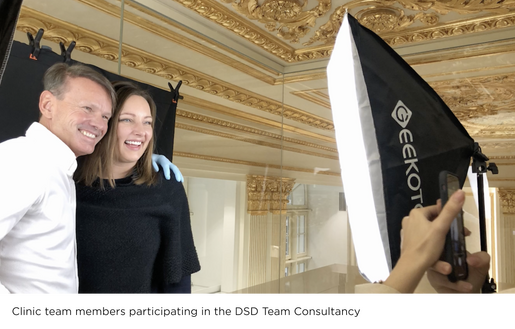 What is the DSD Team Consultancy?
The DSD Team Consultancy is a two-day training experience in your own practice for you and your entire team.
A member of our team of experienced DSD consultants travels to your office to cover all essential DSD implementation aspects and how to develop them as a team.
For the duration of the training, we give your team a complete introduction to DSD concepts and philosophy, expert execution of the DSD workflows, and the proper delivery of the DSD first and second appointments. We also cover the ideal patient documentation process, including an understanding of design and planning options and all types of files involved as well as the necessary tools needed to talk to patients about DSD.
Finally, your team will learn the art of conducting the crucial elements of the perfect 'emotional presentation' to start mastering case acceptance with patients. We'll go over our pro tips for capturing high-impact patient pictures and videos, with the chance for your team to enjoy hands-on photography and patient presentation template practice.

Start your journey.
Get started with your DSD Team Consultancy journey by choosing one of these two options...
Why let your dental team take over DSD tasks?
If you're currently doing the bulk of DSD implementation by yourself, I'm here to tell you that in reality, your team can take on 70% of the DSD tasks, all before case acceptance.
Tapping into the skills and expertise of your team can significantly lighten your load and enhance overall efficiency. I've seen it in countless clinics; involving the team in the DSD implementation fosters team building and a shared sense of purpose, where quality and exceptional service become points of pride.
Delegating DSD responsibilities to your team members not only empowers them but also allows you, as a dentist, to focus on the more critical aspects of not just patient care, but personal care. With less stress, you as the dentist can focus more on the dentistry you love and eventually your exit strategy.
Is the DSD Team Consultancy only for select team members?
The DSD Team Consultancy is unique because it's for your entire team.
Yes, everyone from the hygienists to assistants, reception team, associates, office managers, treatment coordinators, and any other team member of your practice. Why? Because having your entire team on board allows for the most thorough implementation of DSD, something which will be reflected in the patient experience and case acceptance rate.
I had been to the DSD Residency courses and I had captured the energy and the vibe of digital smile design and what it can do for my patients. And I tried to transfer that to my team, but the effect of having the DSD consultants there to explain to me and my team in person was priceless.
— DSD Clinic owner, Dr Saghi Helmi
What other benefits does the DSD Team Consultancy include?
This is a highly personalized program unlike any other team training out there.

Some of the surprising benefits of the DSD Team Consultancy include:

No need for travel arrangements, the DSD Consultancy Team comes right to your clinic

Hands-on practice with a live patient to go step-by-step through our smile reveal and mock-up session

A detailed audit of your clinic with a focus on solutions and recommendations for your unique situation

Training in five different languages: English, Spanish, German, Italian, and Portuguese
Who is the DSD Team Consultancy program ideal for?
The DSD Team Consultancy is designed for those who aspire to the success that DSD clinics worldwide experience every day.
These remarkable DSD clinics empower, delegate, align, and share a unified vision with their teams, and the results speak for themselves.
By reading this, you show your belief in your team's potential, your desire to avoid getting stuck midway in DSD implementation, and your bigger vision for your dental team. Continue reading to find out more…

The DSD Team Consultancy brings the magic of DSD in-house. Having my team trained efficiently and effectively to take on the DSD philosophy and use the concepts so that they work the way they're meant to, showed me how my passion for DSD was being transferred to them in real-time. It elevated my team to another level.
— DSD Clinic owner, Dr Sheena Sood
When is the best time to start the DSD Team Consultancy program?
The DSD Team Consultancy training program best serves dental clinic owners and associates who have already attended or are planning to attend DSD Residency 1. That's because DSD Residency 1 is the most complete introduction to the core principles of DSD and is also a mandatory step for clinics aspiring to become official DSD Clinics.
This training is perfectly complemented as well by DSD Residency 2 and the DSD Mastership as both provide an in-depth perspective as to what it's like to work with the DSD Planning Center and truly practice interdisciplinary dentistry.
Following this recommended sequence aids the seamless integration of the DSD experience between yourself, your clinic, and your team.
I highly recommend that you schedule a no-obligation call with one of our team members to discuss your unique situation to gain clarity on how to make the DSD journey work for you.
Ready to meet the DSD Team Consultancy trainers?
If you're a dentist who is currently implementing DSD on your own, you'll know that this undertaking can be challenging, time-consuming, and sometimes overwhelming. The DSD Team Consultancy changes the course of action so that this isn't the case anymore.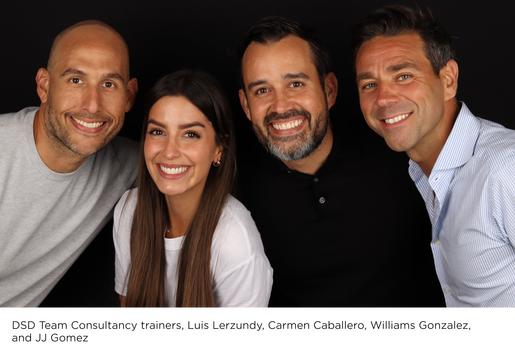 The DSD Team Consultancy cost ranges from $8,000 to $12,000, covering the two-day training, the live patient, the design and manufacture of the mock-up case, and the clinic audit. This price is customized for various global zones and is frequently offered as a bundle with DSD Residency 2 or the DSD Mastership.